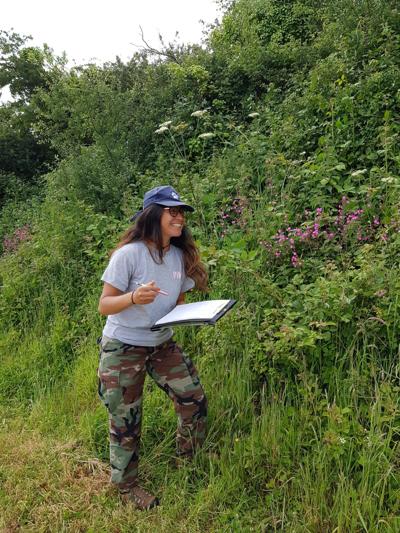 As graduation day neared, Gera Datuin, then an anthropology major at the University of Guam, set her sights on a postgraduate degree in conservation despite having no background in biological science. But after months of crafting the perfect application essay prior to her UOG graduation, Datuin didn't get the response she was hoping for.
"I didn't get any bites at all to do a master's (degree) off island, so when I graduated I got a job," she said.
Datuin, whose interest in conservation stemmed from working as an AmeriCorps volunteer with the Department of Agriculture in 2010, said part of the problem was the fact that she was applying for a biology-related degree with no biology experience.
But her first job, working on policy for the lieutenant governor's office, led to another back at the Guam Department of Agriculture.
"That was another qualification on my resumé, and it really helped get the scholarship," Datuin said of her first postgraduate job, which ultimately led to a full-ride scholarship to study conservation.
Still determined to continue her education, Datuin worked at the agriculture department for two years before applying for a Fulbright U.S. Postgraduate Student Award.
Datuin, whose son was 5 at the time, said the only way she could go back to school was if it was fully funded.
As she gained professional experience in policy, forestry and agricultural development on Guam, Datuin kept working at her application essay – and all that tweaking and editing paid off, literally, as Datuin became the first Guam resident in approximately a decade to receive a Fulbright award.
The award took Datuin to the University of Exeter in the United Kingdom, where she recently received her Master of Science in conservation and biodiversity.
She said the agriculture department's Agricultural Development Services Division allowed her to take a year of unpaid leave in order to participate in the program, in hopes that she could use her new expertise to help her home island.
Returning home
Datuin returned to Guam in July after spending a year studying the effect of pesticides on queen bee populations at various U.K. farms.
Back on Guam, Datuin has returned to her role as an agricultural management technician at the Department of Agriculture. Now, Datuin hopes to put her education to work as an advocate for pollinator conservation on island as well as overall conservation in farming on Guam.
"Our natural resources are finite," she said. "One day they're not going to be available to the future generations, so I think it's our responsibility to give back to the land ... to be aware and do our own research on what helps us be self-sustaining as an island and grow our own food."
Pollinators, Datuin said, are an important part of agriculture, as these insects help produce larger yields.
"Overall pollinator health on farms is an indicator of a healthy farm," Datuin said.
Datuin hopes she also can use her experience to help other Guam students become Fulbright scholars, noting Pacific Islanders are underrepresented within the program.
"I don't want it to be another 10 years until somebody else gets it," Datuin said. "We are underrepresented. ... The more applicants, the better."
By Meghan Swartz https://www.postguam.com/users/profile/Meghan%20Swartz